V.le Sarca, 336
20126
Milan
Italy
Phone:
+39/02/66104876
Fax: +39/02/66101479
Email: italcert@breastcentrescertification.com
ITALCERT Srl
ITALCERT Srl (www.italcert.it) is a Certifying body, that starting from 1992, operates in the field of Management and Product Quality System certification. The society is a notified body for what concerns inspecting activity and technical training and for conformity assessment according to CE type-approval mark.
ITALCERT Srl is an ACCREDIA accredited body for Management Systems Certification (certificates: for Quality n°023A, for Environment n°020D, for Safety n°041F) according to ISO 17021_1, Product and Service certification according to ISO 17065 (certificate n° 122B), Personel according ISO 17024 (certificate n°097C) and for Inspecting activities according to ISO 17020 (certificate n° 075E).
Italcert Srl is also a European Union Notifeid Body (n° 0426) for what concerns several EU Directives.
The Society works for the implementation of specific Certification Schemes aiming at satisfying the requests of particular categories in the certification setting.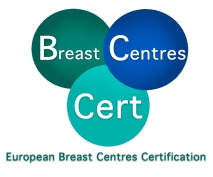 Viale Belfiore, 10
50129
Florence
Italy
Phone:
+39/055/0988380
Fax: +39/055/3241122
Email: info@breastcentrescertification.com
BCCERT
BCCERT
is no profit society aiming at promoting and diffusing a high quality standard of care in breast cancer.
BCCert aims at improving breast cancer care in dedicated multidisciplinary Breast Centres, supporting and fostering the implementation and the compliance with the requirements and quality indicators set up by EUSOMA, together with the development and cultural growth of the specialists operating the field of Breast Cancer care.
BCCert, thanks to specialists and qualified experts and its collaboration with qualified bodies, is committed to develop conformity evaluation procedures for breast centres dedicated to diagnosis and treatment of breast cancer.
All what mentioned above is achievable thanks to the technical expertise, resources and international relations with well known experts in the field of breast cancer care.
Breast Centres Certification
The Organization
Bccert President and Scientific Director
Prof. Luigi Cataliotti
luigi.cataliotti@breastcentrescertification.com
ITALCERT Srl CEO
Dott. Ing. Roberto Cusolito
cusolito@italcert.it
Certification Scheme Manager
Dr.ssa Chiara Morlacchi
italcert@breastcentrescertification.com
Technical Support to Certification Scheme Manager
Dr.ssa Lorenza Marotti
lorenza.marotti@breastcentrescertification.com
Operating Officer
Dr.ssa Teresa Natali
teresa.natali@breastcentrescertification.com
Administrative Manager
Mrs. Simona Adami
admin@breastcentrescertification.com